Our readers are always seeking good discount offers and promo schemes. Many of you have such offers, but need a great platform to promote them to the right audience. Presenting a Win-Win-Win solution for all of us…
Want to promote a special offer on your products or services?
Would like to target the combined audience of Electronics For You (print & e-zine), electronics for you EXPRESS and electronicsforu.com newsletters?
Seek a super budget-friendly option to do it?
If your replied YES to all 3 questions, then you should seek details of the newly launched Deals & Offers section in Electronics For You and electronics for you EXPRESS (efy XP).
Herein, you get fixed coupon-sized ad spaces, through which you can promote your discounts offers, deals, or even promo codes for events, etc.
These coupons will not only get published in Electronics For You and efy XP, but will also be emailed to over 100K recipients of electronicsforu.com newsletters.
For all the combined benefits–the rates are unbelievably low. Plus, there's an Intro Offer for the first 100 clients!
INTERESTED? Simply contact us at [email protected] and our team member will share all the details.
---
SAMPLE IMAGES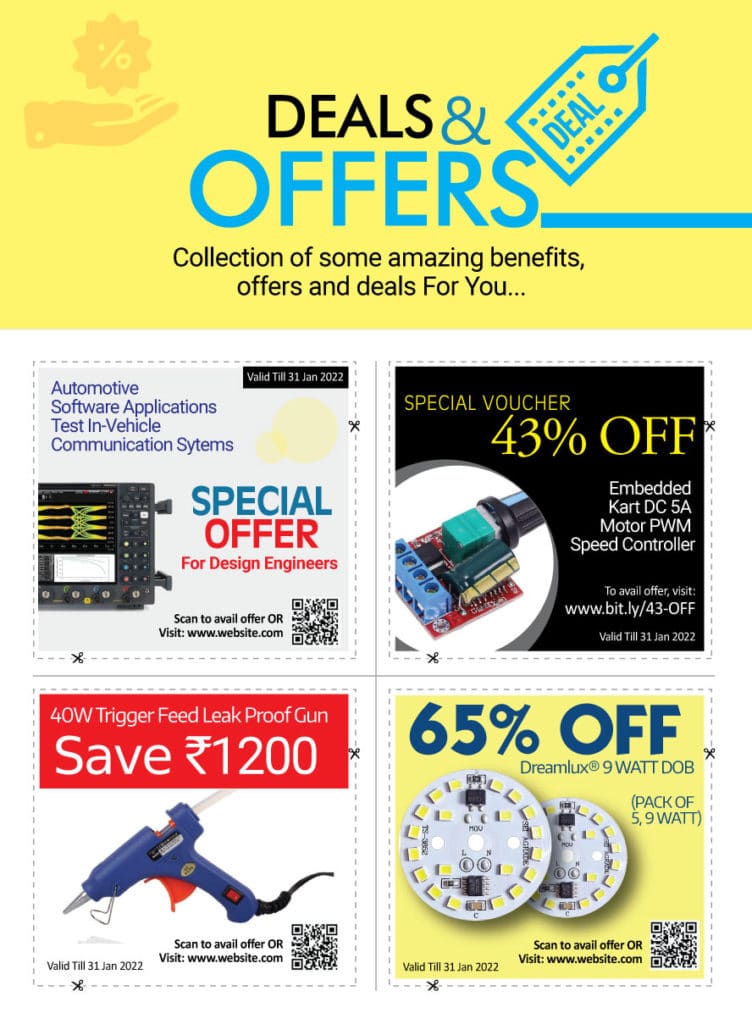 ---
FREQUENTLY ASKED QUESTIONS
Q. What is the cost of a single ad?
A. Since the rates may vary over time, you may contact our team at [email protected] to inquire current rates.
Q. Is there a discount if I book multiple ads?
A. Yes, there are discounts for multiple ads. To get more details, contact us at [email protected].
Q. What is the size of the ad?
A. The size of the ad is 8 cms (Width) X 7.5 cms (Height).
Q. Can I combine 2 or multiple ads to make a larger one?
A. Yes, you can. Though we would urge you to publish each offer as a separate coupon for maximum impact, rather than merging all promotions into one creative.
Q. Can any type of ad be released in this section OR is there a qualification?
A. Ads that clearly show a LIVE offer, which is open to anyone, and provides clear info about:
Discount or promotion
The product or service related to the offer
URL, promo-code or QR code to avail the offer
Deadline for the offer
Also, the border should ideally be designed like a coupon with broken line border.
Ads which are branding ads or simply a product promotion will be REJECTED.
Q. What must my ad mention to QUALIFY for an ad in this section?
A. Key elements have been explained above Q&A.
Q. Who will design the creatives–EFY or us?
A. You will need to design the creatives. EFY can provide sample templates to make it easier for your design team to follow.
Q. How can I place my coupon on the 1st page?
A. We are following a first-come-first-serve basis for bookings received. Hence, if you are amongst those who booked the ad early enough, your ad should come on the first page.
Q. Where will this section be featured in the magazine?
A. We will be experimenting it in different locations to see where does it provide maximum impact. However, given that a lot of readers like to see Classified ads at the end of publications, we expect this section to be near the end of the magazine too.
NOTE: If you have any further queries, post them below OR write to us at [email protected].
---