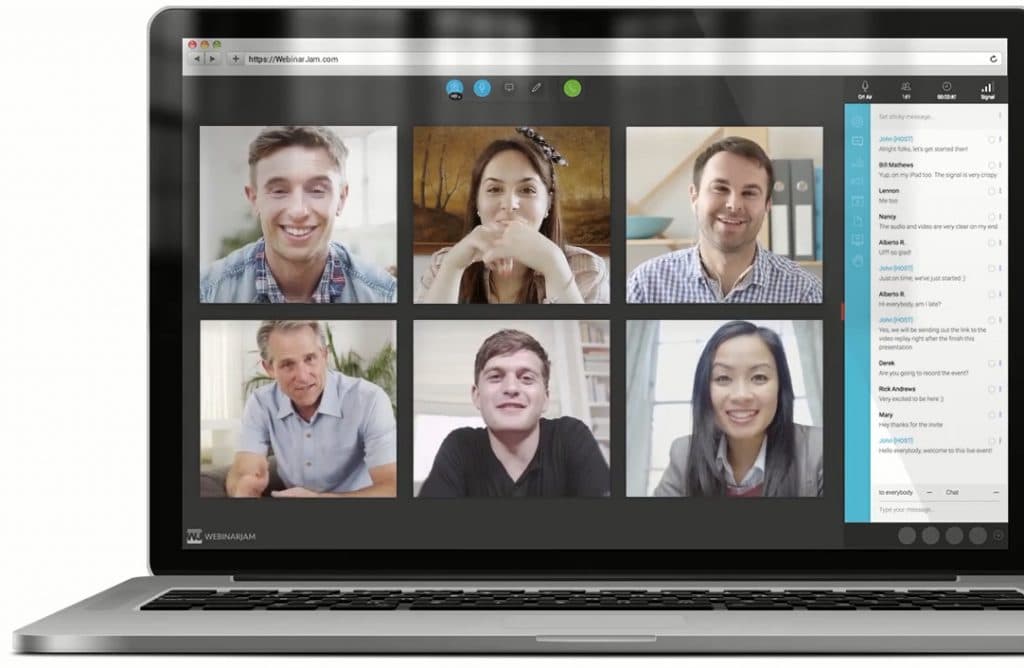 HOST WEBINARS
Webinars are a great way to engage with your audiences. They bring in almost all elements of hosting an event but at a faction of the cost…
Q. What do we do here?
A. Simply put–we host your webinar on our webinar platform–WebinarJAM.
In addition to hosting your webinar, we can provide additional services such as:
Promoting your webinar (using our standard offerings)
Ensuring minimum number of registrants (using our Lead Generation services (below)
BONUS: Create an online test and issue co-branded digital certificates to those who take tests
Q. Can we handle LIVE webinars?
A. Yes, in fact, we prefer to host LIVE webinars. Recorded webinars lack the interactive element and draw less audience. More importantly—those who do attend them, get turned off from future webinars.
Q. What is the maximum duration of a webinar?
A. The maximum duration of a webinar is 4 hours, but we recommend a maximum of 2 hours including Q&A.
Q. Is there any limit to the number of attendees that can attend the webinar simultaneously?
A. Yes–a maximum of 500 attendees can attend a webinar simultaneously. But, if it's planned well in advance, 1 week at least, we can expand the capacity of the platform to 11,000 attendees–subject to additional fees.
Q. Will the webinar be recorded?
A. Yes. And the recording will be shared with you as a standard deliverable.
Q. What is the standard fee for hosting a LIVE webinar? What all gets included in it?
A. Our standard fee for hosting a LIVE webinar is US$ 250. This fee includes:
Providing a platform to host your webinar (duration not exceeding 2 hours including Q&A)
Registration system to manage attendees
Reminder system to remind attendees via emails and SMS messages (we send 3 email reminders and 2 SMS messages)
Working with your team to train them on the Webinar platform and sharing best practices
Recording of your webinar and providing the same to your through FTP or dropbox
Presence of our IT personnel during the webinar to manage and support your team with any issues
Q. What is the setup required at your end?
A. A good laptop or desktop, with a decent quality webcam and a good quality Internet connection—is all you need at your Speakers' end—to ensure a quality webinar.
Q. What is the setup required at the end users' end?
A. End users can view the webinar on any Internet connected device that has a standard web browser capable of showing video and an audio output.
Q. What all Reports will be provided with this facility?
A. For webinars, we provide the following reports:
Database of All Registrants
List of Participants who logged in during the session
Q. What all the additional features provided by EFY-i's webinar platform to enable you to host a professional webinar?
A. Our webinar platform provides the following tools:
Q&A chat facility
Moderation facility
Q. How many simultaneous speakers can present using EFY-i's webinar platform?
A. Our platform allows a maximum of SIX speakers to present concurrently (at the same time). By default, we provide a facility of upto 3 speakers, but at an additional fee, the same can be extended to 6.
Q. Since EFY uses a 3rd party webinar platform, why should YOU not directly pay to that platform and host your webinar?
A. If you are only seeking a platform—it might make sense for you to directly pay to the platform and host your webinar. But, if you seek a partner to manage all the technicalities, and enable your team to focus on delivering the webinar—then you may want to look for a partner like EFY-i. Our team has built expertise on this platform.
Plus, if you want to engage a partner who can promote the same too, so that you get the desired response to the entire exercise, then EFY-i would be the perfect partner.
Q. Besides hosting the Webinar–what else can EFY-i do for you?
A. Typically, we handle projects where we don't only host webinars but are also asked to drive audiences to register for the same, and then remind them to login and attend the webinar.
Here again, you can opt for our Standard Services to promote the webinar OR invest in a Response Guaranteed solution.
Q. What is the percentage of registrants who turn up for the webinar?
A. We have seen this proportion range from 15 percent to 55 percent. It depends a lot on the topic and the speaker. If the topic is important for the audience–higher percentage logs in. Plus, factors like timings (second half preferable) and days (Mondays are a no-no) also affect this percentage.
Q. If you go for the Response Guaranteed option–what do we guarantee–registrants or audience?
A. We typically guarantee registrants–as the number who will log in during the webinar is not in our control.
Q. How experiences is EFY-i at hosting webinars?
A. Our team has hosted 50-plus webinars over the last three years. The biggest had 400-plus concurrent attendees (on Raspberry Pi).
Q. Any ideas on how to promote attendance and engagement during the webinar?
A. In the past, we have used simple strategies like announcing awards for…
Lucky draw prizes for those who were logged in through out
Lucky draw (or assured gifts) for those who ask questions
Assured gifts for those who are able to able to answer questions of presenters
Plus, we can also set-up an online test, and then provide a co-branded certificate to all those who took the test and passes it.
Q. Why should you consider issuing digital certificates as part of your webinar strategy? What are the options?
A. Issuing certificates as part of your webinar–can attract more audience, and if you add the element of a test at the end of the session, the level of interest and attention could be increased too.
Your options for issuing digital certificates are:
Certificate for attendance: here you simply certify that they attended the complete webinar
Certificate with Score: here you certify their score
Certificate with Rank: here you certify on percentile basis (what was their rank amongst all)
Note: You can also use combinations of 1 and 2 or 1 and 3 i.e. issue multiple certificates.
Q. How does EFY-i issue the digital certificates to attendees who take the test at the end of the webinar?
A. We use the online test software to calculate the scores and then mention that score as part of the Certificate of Attendance
Q. How does EFY-i prepare the test?
A. This is one aspect where we will need your trainers' help. We would want them to provide questions and answers with 3 to 4 different options. We will set up the test, based on these inputs.
Q. Can YOU issues these certificates?
A. Sure, why not. If you need the test scores, we will provide them as part of the report.
Q. How do you charge for this service?
A. Our typical charge for setting up the test is US$ 300. We issue digital certificates at a fee of US$ 10 per candidate.
Q. Do you have archives of any webinars?
A. We forgot about this opportunity unless a client asked. Now, we are in the process of building an archive of the last few webinars. Once it's setup–we will share.